by Jayne Burch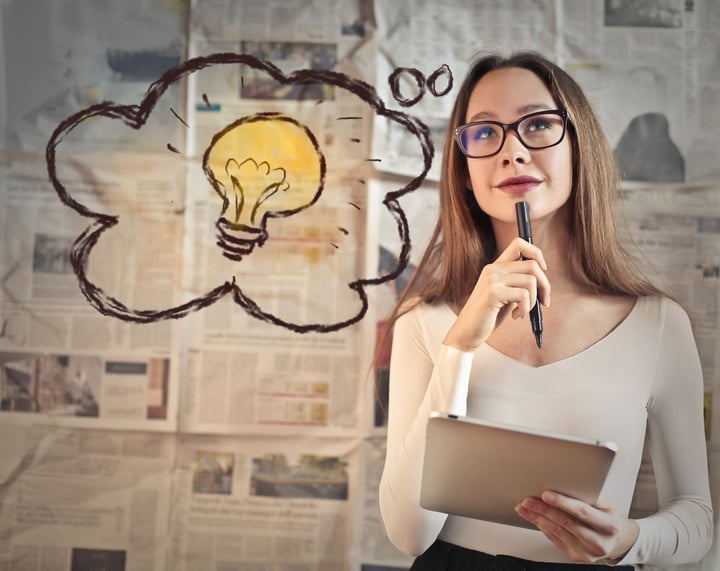 Want to get found? Want your company to be seen as the authority? Creating your own content is important to demonstrate your expertise. Content curation and sharing that content takes your authority one step further.
Content curation is the discovery and sharing of articles and media in a subject area of interest to your market, and then sharing it over social media or within your own blog.
Become the go-to source for excellent content in your niche. The two reasons you need to do it now are:
Curating and sharing expert content from multiple sources provides great value to your customers and followers. You will save them time by helping them find ideas they might not find on their. By being the provider of important content in your niche, you also build your own authority.
Sharing the content of others, even competitors, builds community, and the likelihood that others will share your original content, too. When your content is shared, your influence grows.
"But," you might ask, "Shouldn't I be sharing my own content to generate leads?" Glad you asked!
Sharing the work of others doesn't mean you can't also drive traffic and conversions to your own website. Keep reading to discover how to put a call-to-action (CTA) button on every piece of content you share.
What Should I Share?
It can be hard sometimes to find quality content to share in a sea of information and "fake news" being published every day. I have a few rules of thumb to narrow down the ocean of possibilities.
Collect content related to your keywords and topics in your editorial calendar
Find content that has already been shared multiple times
Identify influencers in your field and share their content too
Here are eight tools that will make your content curation a breeze.
Use These Tools to Research and Discover Great Content to Share.
Buzzsumo.com allows you to type in any keyword or domain, and then provides an ordered list of the top shared content around that topic. The paid version also allows you to search and save content by influencers of your choice.
If you were a fan of Google Reader, Feedly is a great alternative, since it serves as an RSS feed to curate content around specific keywords, topics, domains, etc. You can easily organize content into boards and flag content to read later. Feedly definitely takes the strain out of curating content manually.
#3: Influencer newsletters and blogs
Find the bloggers and thought leaders in your topic. Pay particular attention to those publishers who are read by your target market. Subscribe to their blogs through Feedly, or have them delivered by email.
Use These Tools to Save and Organize the Content You Find Until You're Ready to Share.
Have you ever been scanning your social media accounts and come across an article or image that you love and your target market would love too? You can stop what you're doing and share on all your social media platforms right then, but if you're like me, you don't have time. These next tools will help you grab the great content you come across, categorize and save it so it's ready when you are.
Did you know that the average person spends 10 hours a day in front of a screen, according to a study done by Nielsen Company? A large chunk of that time is likely spent browsing the web or scrolling through your social media feeds.

During that screen time you'll likely come across several relevant articles aligned with your content curation needs. Perhaps you bookmark these or make a mental note to go back to them, but they end up falling off of your radar. Pocket is the perfect tool to prevent this from happening.

Pocket is an app as well as an extension you can add to your browser that will then save articles to read or link to later in one organized location. Pocket allows you to easily tag articles to group relevant topics or themes together. It also includes robust search functionality to easily locate articles in your Pocket account.
Evernote is especially useful for content creation. With it's Web Clipper app that sits in your browser, you can grab any article, PDF or image from a browser and save to Evernote with links intact. Save to notebooks within Evernote categorized by keyword, purpose or platform. "Notes" can be tagged for easy search and retrieval. When you're ready to share, just grab the link from the note.
Add a Call-to-Action to Your Curated Content
Curating and sharing other people's content doesn't mean you have to forgo driving traffic to your website. Use an app that will add a call-to-action pop-over to the content you're sharing.
Snip.ly is a link shortener, tracker and call-to-action button all rolled into one slick app. Both free and paid versions create a call-to-action button that links back to your website. Use Sniply to offer a related article on your blog, or a lead generation offer like an ebook.
For help in crafting the best CTAs for conversion download this ebook, "6 Tricks for CTAs that Rock."
Next Steps
Get started or get more organized, if you're already curating and sharing content. Find the keywords and topics for each month in your editorial calendar and start collecting relevant content. Share freely on social media. There's no time like the present! Follow @marketngmonsoon on Twitter where we share the best content on content marketing, calls-to-action, lead generation systems, blogging, inbound, and much more.
Marketing Monsoon is a growth agency specializing in lead generation, client acquisition and customer engagement. Since 2006, we have changed the marketing landscape of our clients in alternative energy, healthcare, and HR consulting industries.
Is your company looking to attract traffic, generate leads, increase sales, and delight customers? See how our team of experts can help.
About Jayne Burch
Entrepreneur | CEO | Lead Generation Systems Expert | Inbound Marketing Expert Through Marketing Monsoon she has helped hundreds of business owners to develop automated marketing systems with their website. Ms. Burch has a background in organizational development and leadership development in large healthcare organizations. She is a Graduate Master Business Coach.