by Jayne Burch
How easy is it for website visitors to do business with your company? Do you let them know how to use your site with a Call-to-Action? Think of a "Call-to-action" as instructions you give to visitors on what to do when they get to your website.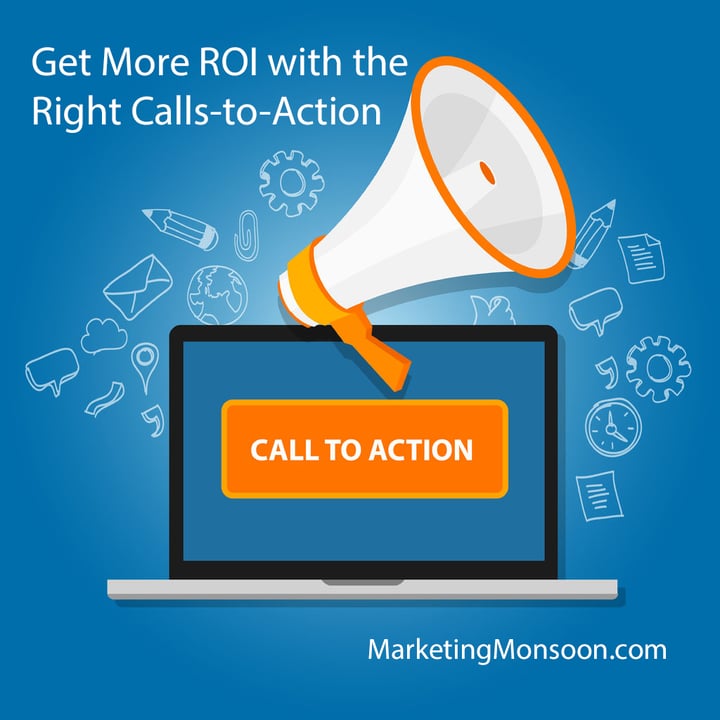 What's a Call-to-action?
Here's an everyday world example. Remember the last time you ate out at a new restaurant? When you walked in, you were probably greeted by someone (or a sign) that let you know the next step - "Please Seat yourself" or "Please Wait to Be Seated." You were informed of the next step as soon as you arrived so you knew what to do.
Without calls-to-action, your website visitors are likely to wander around without direction and then leave. They are looking for direction from you. They want to know "What's the next step?" They came for a reason, and with a goal in mind. It's up to you to make it easy for them to achieve their goal.
A Call-to-Action (CTA) is that instruction that lets your visitor know the next step. You're giving them an action to take. It's that simple. The action you choose for them to take should both help them meet their goals and your goals too. What should your goals for a call-to-action be? The purpose of any call-to-action is engagement and interaction. Your call-to-action might take them deeper into your website (Read More, Show Me, Etc.), or move them along a path through your sales funnel (Give Me the Tips, Order Now, Etc.)
Have you seen these CTAs before?
Buy now

Download now

Subscribe to our newsletter,

Request a quote.
Note: these are not the best CTAs, but they're probably familiar. Read on for tips on what makes a good call-to-action and what to avoid. But, first, why should you care about CTAs?
Why your website needs calls-to-action
Without a call to action your website is passive. You'll be giving information but you won't have a clue whether that information is helping your audience buy from you. CTA's will give some indication whether your offerings are what your visitors want. (Be sure to monitor the metrics on your CTAs.)

You have to ask your visitors to take up the offer or take the next step. If you don't ask, most people won't take action (because the next right action is probably not as obvious as you think it is).
No CTA means you're not closing the deal; you're not converting. You're "leaving money on the table" (and who wants to do that?) To boost your website ROI, make sure you're engaging your visitors and asking for the business.
Every page on your website needs at least one call to action. Whether or not you have an offer, opt-in or something to sell. Every page needs some action, even if it is to read a related article on your blog.
Every blog article needs a call to action for a lead generation campaign related to the blog topic. Plan your blog articles to attract traffic focused around your target audience's interests. Pair each article with a relevant offer such as an ebook or infographic. Place a call-to-action to get more information by downloading your offer. With a call-to-action, every blog can be a lead generation system
What makes a good call-to-action?
Here's a quick checklist to keep you on track.
Grabs attention and be clear about what they'll get: "Yes! Give me my tips!" (instead of download the report.)
Keep it short, focused and relevant - your CTA text should fit on a button.
Use intriguing action verbs - Grab, Get, or Discover v. Download. Send message v. Submit.
Speak the language your ideal prospects speak. Do your ideal customers prefer formal, or casual language - Grab v. Get or Give.
Use the first person (Give me my checklist v. download checklist.)
Create urgency (use Now, Today, Immediate Access.
Make it sound easy - "Discover v. Learn, Join v. Start or Sign Up"
What makes a bad call-to-action?
Don't make your CTA's boring or common.
Buy now

Call now

Contact us

Subscribe

Submit

Download
A good rule of thumb is one CTA (or campaign) per page. However, have your CTA (campaign) multiple times on the page in different formats (text links, buttons, images.) Ask them to do one thing, multiple times on the page.
Next Steps
Review your website. Do you have CTAs on each page? One of the biggest mistakes we see on a company website is no CTA for lead capture "above the fold" on the front page. If you don't have one, be sure to add one right away. Make sure your offer is visible without scrolling down the page.
If you have CTAs, how are they doing? Use the tips above to make improvements. Get this ebook for more tips for CTAs that really get results.
Lastly, do some A/B testing if you are able to do so rather than guessing what works. Not sure where to start? Let us help with a free website evaluation.
Marketing Monsoon is a growth agency specializing in lead generation, client acquisition and customer engagement. Since 2006, we have changed the marketing landscape of our clients in alternative energy, healthcare, and HR consulting industries.
Is your company looking to attract traffic, generate leads, increase sales, and delight customers? See how our team of experts can help.
About Jayne Burch
Entrepreneur | CEO | Lead Generation Systems Expert | Inbound Marketing Expert Through Marketing Monsoon she has helped hundreds of business owners to develop automated marketing systems with their website. Ms. Burch has a background in organizational development and leadership development in large healthcare organizations. She is a Graduate Master Business Coach.