by Jayne Burch
To blog or not to blog - where does your business fall on this question? Many blogs are started with good intentions only to be abandoned - seeing a post maybe once a month or even once a year. Some businesses use their blog to talk only about their company's products and services. The results of this type of posting is usually nil.
You may have heard that to create more inbound traffic, quality leads and ultimately, new business, you'll need to blog regularly. Read on to learn more about how to be successful at blogging for your business.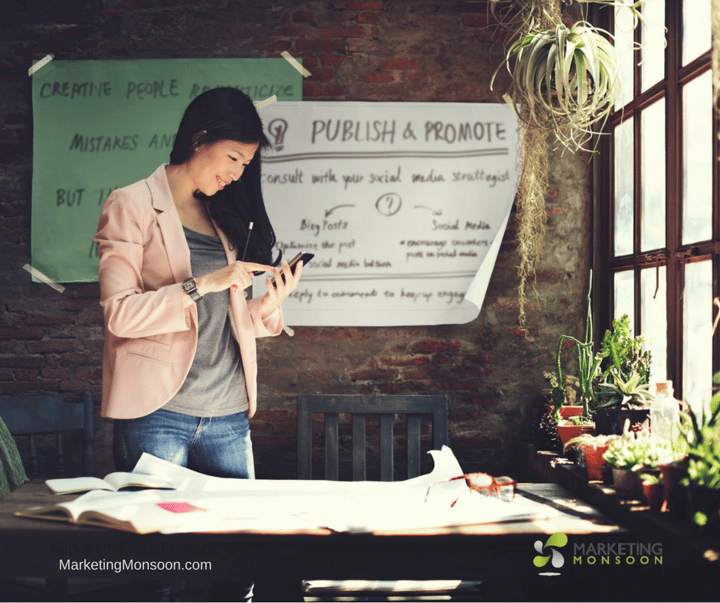 How to Be Successful at Blogging
Why Do So Many Businesses Fail to Blog?
The answer may seem obvious if you're in this situation. Even though we can statistically demonstrate the benefits of regular blogging, many businesses fail to maintain a successful blogging program.
The blog is often put on the back burner by overworked and overwhelmed marketers who wear many different hats and have varied responsibilities. The fact is, regular blogging just seems unworkable. And, it most certainly is unworkable without a systematic approach and preparation.
Using a few universal principles, a content creation structure can be set up that will allow you to comfortably build your content library, drive more traffic, generate more leads and convert more business with a blog you and your company can be proud of.
Before I present some of the corporate blogging best practices, I'd like to define a few terms. You may have also heard the terms content marketing and inbound marketing in relation to business blogging and wondered how they all relate to each other. These terms are often used interchangeably but, they are really more a subset of each other.
What is Inbound Marketing?
Inbound marketing is a lead generation approach focused on attracting customers through content and interactions that are relevant and helpful — not interruptive. With inbound marketing, potential customers find you and your website through channels like blogs, search engines, and social media.
Your website visitors become leads when they receive some of your content in exchange for their email address. That's called a conversion. There are many tools to help you set up lead capture on your website. (Go here to learn more about the Easy Lead Capture Boot Camp.)
What is Content Marketing?
Content marketing is the process of publishing content designed to address the problems and needs of your ideal customers. The purpose of content marketing is to attract qualified prospects and build trust and credibility for your business. Content marketing is just one component of the inbound marketing methodology.
What is Business Blogging?
Your company blog is just one aspect of content marketing. Your blogging is the engine that drives targeted traffic to your website. Blogging is the core of content marketing and, therefore, the inbound marketing methodology. Consistent, regularly published content that educates and informs your ideal customers is what generates traffic. The more a company publishes this type of content, the faster the traffic grows and the more leads are generated.
Prepare to Succeed
Before starting to write or even deciding what to write, successful bloggers create a content strategy and plan.
In order for your blog to rise above your competitors in the search rankings, you'll need to determine a few things first. Start by thinking through your blogging strategy first before writing a word.
Take these four steps to writing a content marketing and blogging strategy.
1. What's Your Why?
Blogging is storytelling. Stories are a powerful way to connect with a group or a brand. Stories create a connection. Stories give us a reason to communicate and relate.
Business storytelling is similar. It's about creating alignment between your business and your prospects and customers.
What makes employees and customers buy into a company? Learn more by reading the Executive Summary: The Golden Circle with Simon Sinek.
Simon Sinek says, "People don't buy what you do, they buy WHY you do it."
Why does your company do what it does? Write it down now.

2. Your Goals for Your Company Blog
Let's put this effort into a concrete context. Why are you putting the time, effort and money into a blogging program? With any business building program you want and need to see a return on your investment. Use a worksheet to determine the specific and measurable outcome you want from a successful blogging/inbound marketing program. Decide now how you will know when your blogging program is successful.
State your goal in terms of specific numbers - traffic, leads and customers. What's the starting point for each and what's the increase you're looking to get? (simply stating I want "more leads" or "more business" is not specific enough.)
Use a worksheet to drill down into your numbers and know exactly what needs to be done to reach your marketing and sales goals with inbound marketing.
for free.
3. Buyer Personas: Who are You Writing for?
Regardless of the story you're trying to tell or how you're trying to tell it, storytelling has three essential elements - characters, conflict and resolution.
In the box below, outline your business' character(s) or buyer personas (the primary person(s) you're trying to reach and educate or inform).
4. What are Your Core Topics?
Core Topic Clusters:
Google has changed (again!) their algorithm for ranking content in search. The old SEO method of writing post after post around the same exact keywords doesn't work. In fact Google and other search engines are more responsive to content that is written around different, but related keyword phrases.
What's working now is to identify core topics that are important to your "buyer personas" and then create a cluster of content around each of those core topics that answers questions your buyer personas might have around each topic. These questions will become the topics of specific blog articles.
Remember: Each topic area should be educational or informative about your industry, not your brand. Most people don't know who you are yet, so you need to attract them with valuable thought-leadership content.
What are the four to five main topics suggested by the problems and solutions your ideal customers are looking for? Write them down now.
Next Steps
If you take the time and make the effort to really think through these steps above you will be on your way to succeeding with a blog. Download the Business Blogging Strategy Workbook for free for a guide to completing the exercises. When you're done you'll have a great foundation for creating a content marketing plan that rocks. (Looking for more hands-on help? Consider attending the Business Blogging Boot Camp.)
The next step is to systematize your content creation with a content calendar and content creation tools.
Please take a moment and share this article with other marketers who are considering upping their blogging game.
Marketing Monsoon is a growth agency specializing in lead generation, client acquisition and customer engagement. Since 2006, we have changed the marketing landscape of our clients in alternative energy, healthcare, and HR consulting industries.
Is your company looking to attract traffic, generate leads, increase sales, and delight customers? See how our team of experts can help.
About Jayne Burch
Entrepreneur | CEO | Lead Generation Systems Expert | Inbound Marketing Expert Through Marketing Monsoon she has helped hundreds of business owners to develop automated marketing systems with their website. Ms. Burch has a background in organizational development and leadership development in large healthcare organizations. She is a Graduate Master Business Coach.