by Jayne Burch
True confessions of a lapsed business blogger
Unless you're someone who naturally enjoys writing, the idea of publishing a blog may send cold chills down your spine, (not to mention, seem like an unreachable and downright daunting feat.) It may not seem immediately apparent how and why to start a blog.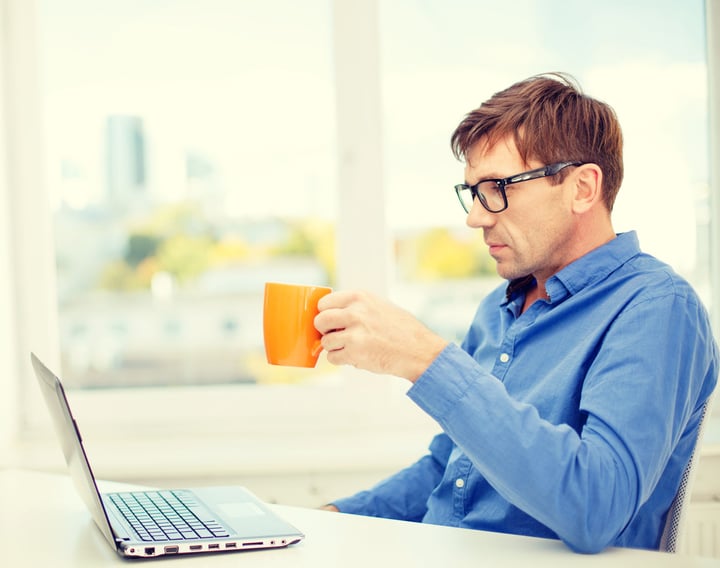 Plus, if you're a business owner, you've got a lot on your plate besides marketing. You may understand the reasons for publishing regularly, but writing articles and posting on social media, somehow consistently falls to the bottom of the list of things to do.
Even if you've considered including a blog on your website, there are many objections that can get in the way. Here are a few I've encountered from myself and from other business owners and marketers.
I don't have the time!
I don't know what to write about.
I don't like to write.
I don't know if I write well enough to publish on our website
We wrote a few blogs and got absolutely no results!
My business is retail (or financial, insurance, construction, etc.) How would blogging help us get more local business?
Sound familiar? None of these reasons hold water in the face of the business benefits of publishing content regularly on your business website - especially for local business.
What many business owners don't understand is how much business and revenue they are leaving on the table without a business blog. Believe me, I know first hand!
Learn how blogging fits into your business growth plans:
How and Why to Start a Blog
The Why
My business is marketing. My job is to help my clients generate leads and close more business. It's what I do all day. But like many business owners, I let the everyday activities of serving my clients get in the way of marketing my own business. I stopped blogging. (Gasp!)
The consequences were severe, but slow - sort of like the boiled frog. I was lulled into falsely believing that my website traffic would hold steady until I got around to it again. Before I knew it, my traffic had tanked.
Then, in the beginning of this year, I got serious. I restarted my blog with a commitment to publish at least once a week on the same day. It's been eight weeks now. The results have really blown me away.
The traffic to my site has doubled month over month for 3 months. That one result would be exciting enough, but I've also raised my overall conversion rate from < .5% to 12%.
How to Start Your Blog
To restart my blog and keep going, I needed to find a structure and a process that worked for me. The first article took me most of a day to write. I knew that wouldn't be sustainable. The process I developed is simple, but powerful, that helps me create content that is attractive to my target market.
Start with a Plan
Create a list of longtail keyword phrases that have searches and are not too highly competitive. (I started with 200)
Generate a list of possible blog topics using the Blog Topic Generator from HubSpot.
Create an Editorial Calendar. I.e. plan which topics you want to publish each week.
Here are a the steps I use each week.
Choose a keyword you want to rank for that is important to your target audience.
Choose a title for your article (from the generated title list, or use the title analyzer from CoSchedule.)
Start a draft. Some people find it easier to do a brain dump of ideas about the topic first. One of the biggest mistakes novice writers make is to expect to write only one draft. Start with an outline. A blog article needs to be at least 300 and is typically less than 800 words.
Now, you can write the final draft yourself, hand it off to one of your staff to finish up, or hire someone to put your ideas into final form. There are plenty of ways to create content without having to sit down and write the whole thing from start to finish.
Once you've written your blog, it's time to publish it on your website. Find a relevant image and add it at the beginning. Be sure you have the main keyword in the title, in a heading on the page, and in the first paragraph of the article body.
For a little more SEO juice, also add the keyword to an image Alt Tag on the page, and in the meta description.
See our blog on tools to increase your blogging productivity.
Visitors to your website is the main reason why to start a blog for your business. Or, as I've heard Heather Lutze, of Findability.com say, publishing regularly using your keywords is like offering "Google a snack." New, relevant content gives the Google bots a reason to visit your website and to include your site in search results.
Next Steps
The reality is, the more you publish, the more traffic - and, the more leads you will generate from your website.
B2B companies that publish 11+ times a month are seeing 3.5 times the traffic than those that publish only 0-4 times a month. (HubSpot, 2016)
Grab this ebook for more ideas on creating content.
Look at what's in your way. Start out slowly - but start. Happy blogging! And, let me know how you're doing with starting (or restarting) your blog.
Marketing Monsoon is a growth agency specializing in lead generation, client acquisition and customer engagement. Since 2006, we have changed the marketing landscape of our clients in alternative energy, healthcare, and HR consulting industries.
Is your company looking to attract traffic, generate leads, increase sales, and delight customers? See how our team of experts can help.
About Jayne Burch
Entrepreneur | CEO | Lead Generation Systems Expert | Inbound Marketing Expert Through Marketing Monsoon she has helped hundreds of business owners to develop automated marketing systems with their website. Ms. Burch has a background in organizational development and leadership development in large healthcare organizations. She is a Graduate Master Business Coach.