by Jayne Burch
Did you know that your business blog is the best place to capture leads? Is your business blog generating new customers and clients? If you answered "no" or you said "what business blog?" this article is for you.
Many businesses that do blog, even occasionally, miss the point of blogging. The purpose of having a business blog is to attract and help your ideal client. If blogging feels like a pointless exercise or just something on your never-ending marketing to-do list, here's how to give it more meaning and get more results.
Every B2B business, every professional, and every healthcare organization needs to have a blog and blogging strategy to build a sustainable business. The reason is, blogging is the cornerstone to what we call inbound marketing and sales. Inbound marketing and sales are what has you pull the right clients to you, rather than you having to chase them.
Why should you care about inbound marketing methods?
Fact: More than 81% of people looking to buy a product or service or even find a healthcare provider, do research first online.
Think about it. In 2019 we look to our social media contacts for recommendations, we read reviews. Right? We ask Google any number of questions about how to do something or for solutions we're looking for. We turn to our phones and computers to get the latest information so we can make an informed decision.
Today, because buyers are able to access the information they need online, they are more than 60% of the way through their decision-making process before they ever contact a company, request an appointment or talk to a salesperson. This is where inbound marketing gives you a competitive advantage.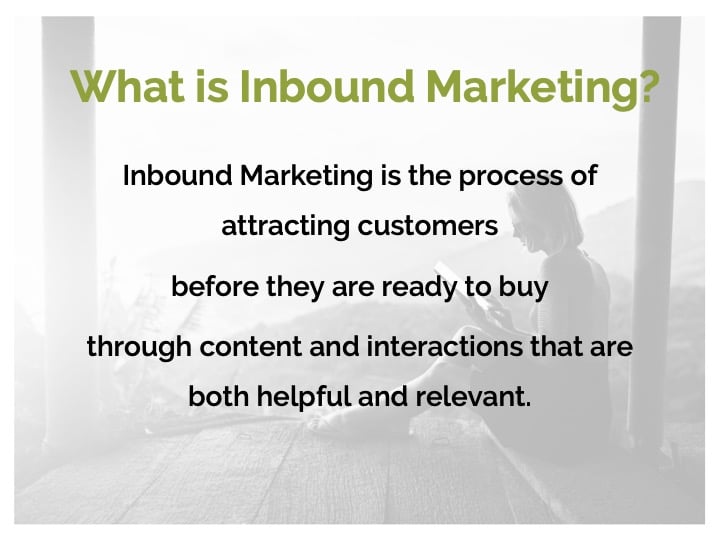 Inbound marketing is the process of attracting customers before they are ready to buy with content (e.g. blogs, ebooks, infographics, etc.) and conversations (ie sales conversations) that are both helpful and relevant. Therefore, when planned and executed correctly, your blog is the engine that attracts potential customers to your business while they are still in the "looking zone." Make your company blog your ideal clients favorite "How to" guide.
The point of your blog is to help your potential customer do their research way before they're ready to buy. When you blog effectively you become a resource your prospective customers trust to guide them through the buying process. They will either look to you for help or to your competitor. Consider this:
"B2B companies that publish 8-11 times a month saw 3 times the traffic than those who published 0-1 times a month."
The number of times you publish makes a difference in your traffic. And, so does what you publish. Blogging about company news will not attract visitors the way a well-thought-out piece that provides the information your ideal customer is seeking.
Problem: "Our blog is generating traffic but we're not seeing any new business from it."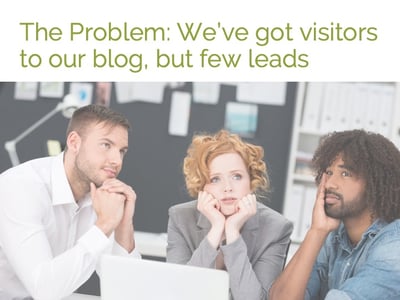 Sometimes the problem is not more traffic, it's that visitors to your blog are not converting to leads or customers.
One of our clients experienced this very issue when we started working with them.
Our client, a specialized healthcare provider, asked for help with their website that was seeing 1500+ visitors per month but was generating no new clients to the practice.
We knew they were attracting the right traffic because the blogs were being read, and over 40% of the traffic was going to a page called "find a practitioner."
When we took these simple steps to better engage their website visitors we got some dramatic and immediate results - two new clients in 24 hours and over 30 qualified leads in the first week.
Follow these same three steps to turn your blog and website visitors into qualified leads and customers too.
Step #1: Start with a blog that your customers really want to read.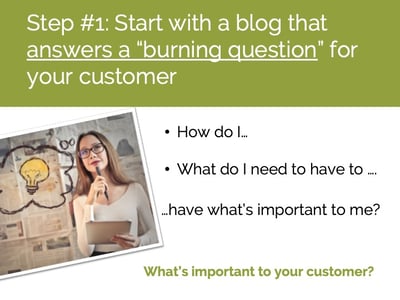 What to write about is one of the biggest questions we get from our clients. One of the biggest mistakes we see is deciding on each blog topic individually, on the fly. A blog that covers a range of strategically selected, overarching topics that logically link together signals the search engines that you have authoratative content.
Plan each blog topic in advance according to a strategic blogging plan and you'll never wonder what to write about next. Creating a strategic blogging plan is something we do with our clients at the beginning of every consultation. We call it a Flight Plan. It's also something we teach the very first session of our Inbound Marketing Skills Series of classes.
To write blogs that get found, read and shared by your clients, write about their burning questions - not only about products services - but about the underlying problems and solutions to those problems that the products and services address.
In our client example, a burning question for their clientele was, "Can ADHD be cured?" This question was a search term used frequently by their ideal client and brought traffic to their site.
Start your lead generation experiment with a blog that answers your customer's "burning question" and answers it in the form of a "How to" or a list.
TIP: Blogs that get found, read and shared often are "How-to's" or "Lists" (e.g. 3 steps, 5 Ways, 10 Reasons to.)
Still not sure what to write about? Want support to build your business blogging plan? Consider our Inbound Marketing Skills Training. Confusion about what to write is one of the biggest reasons businesses let their blog go, or don't start one at all.
Step #2: Put a "Call-to-Action" on your blog to get MORE leads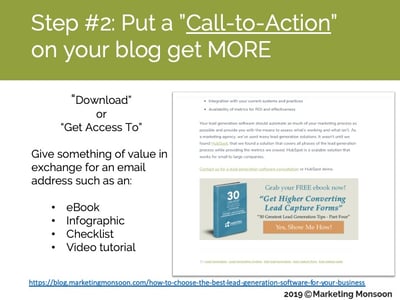 The primary reason websites or blogs don't generate leads is they lack a "Call-to-Action" that quite literally tells your readers what action to take next. Make it perfectly clear what the next step is for AND make it easy for them to engage with you.
Successful lead generation is more than just slapping a "Join Our Mailing List" form at the end of your blog.
The best-converting calls-to-action offer a valuable piece of content that is relevant and enticing to your reader, something that will really help them go further into the topic that drew them in in the first place. Check out one of our high-converting blogs and notice the correlation between the blog and the additional content offer.
How to Get More Website ROI with the Right Call-to-Action
I've introduced two concepts so far - the "Call-to-action" and the "offer."
What is a Call-to-Action?
The call-to-action is a phrase that literally tells your reader what to do next.
Your Call-to-action may read something like:
"Download this ebook"
Or "Get Access Now."
When these calls-to-action are clickable links, buttons or on a clickable graphic, they are more likely to be seen and followed.
What is an Offer?
The offer is something of value given in exchange for an email address such as an eBook. Infographic, checklist or video. Offers don't need to be elaborate. The information just needs to be something that your ideal client wants enough to be willing to part with their email address.
The best calls to action and offers helps the reader go deeper into the topic presented in the blog to learn more.
Step #3: Link the Call-to-Action to a Lead Capture Form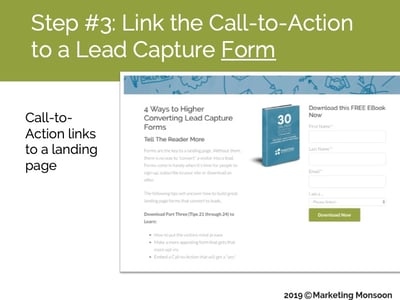 To generate leads from your blog, link your Call-to-Action to a lead capture form. That may look different in some cases. The most common way to get leads from your blog is placing a text link, button or clickable graphic that sends your reader to a landing page where they can complete a form to download your offer.
Once the form is submitted the reader is redirected to a "thank you" page to complete the download. All contact information is collected into a program that stores the information, and ideally sends an automated follow-up email.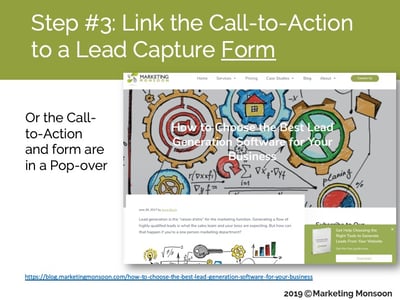 A second simpler option is a "pop-over" form that is a landing page, lead capture form and thank you page all in one. Leads are captured right from the blog without ever having to leave the page.
You're now generating leads from your blog!
NEXT STEPS:
You may be thinking that all this lead capture requires some software, and you'd be correct. There are actually two very good choices that are free to use that create the forms, store the contact information and even send the automated email.
Here are two resources to help you get started generating leads from your blog.
Grab our ebook, Choosing the Best Lead Generation Software.
Take our Inbound Marketing Skills courses to get help creating your offer and setting up your lead capture system. Take our What Inbound Skills Do Your Need Inventory here.
Please leave comments or questions below. Happy lead generation!
Marketing Monsoon is a growth agency specializing in lead generation, client acquisition and customer engagement. Since 2006, we have changed the marketing landscape of our clients in alternative energy, healthcare, and HR consulting industries.
Is your company looking to attract traffic, generate leads, increase sales, and delight customers? See how our team of experts can help.
About Jayne Burch
Entrepreneur | CEO | Lead Generation Systems Expert | Inbound Marketing Expert Through Marketing Monsoon she has helped hundreds of business owners to develop automated marketing systems with their website. Ms. Burch has a background in organizational development and leadership development in large healthcare organizations. She is a Graduate Master Business Coach.